COVID-19 vaccinations are available from Monday March 22, 2021 for people eligible under Phase 1a, 1b &2a at Southside Clinic. The vaccination clinic will run from 9.00am - 1.40pm Monday to Friday and is strictly by booked appointment only.
For all bookings please call 8539 3232
Please print and complete the Covid19 Vaccination Consent Form and bring along to your appointment
Patient Information On Astrazeneca Covid19 Vaccine and Thrombocytopenia Syndrome

Covid19 After Your Astrazeneca Vaccine Information Form

When am I eligible for the Covid-19 vaccination?

The COVID-19 vaccines work by preparing the body to defend itself against COVID-19.
When a person is given the AstraZeneca COVID-19 vaccine, some of their cells will be "infected" by a dead adenovirus (common cold) carrying the DNA for the spike protein, which mimics the COVID-19 virus. The person's immune system will then recognise this protein as foreign and produce antibodies and activate T cells (white blood cells) to attack it.
Once vaccinated, if a person comes into contact with COVID-19, their immune system will recognise it and be ready to defend the body against it having already been exposed to the vaccine.
As a result, you will be less likely to have severe COVID-19 symptoms after a vaccination.
Vaccines, like any other medication or natural therapy, can have reactions or side effects. The extent and severity of side effects of the COVID-19 vaccines are similar to those from other vaccines. You may experience minor reactions or side effects following vaccination. Most reactions or side effects last no more than a couple of days and do not require special treatment. Serious reactions like allergic reactions are extremely rare.

Common reactions to the COVID-19 vaccine include:
tenderness, pain and swelling at the injection site
tiredness
headache
muscle and joint pain
chills
fever.
Some people may also experience redness at the injection site, nausea, itching at the injection site, pain in the limb, enlarged lymph nodes, difficulty sleeping or generally feel unwell.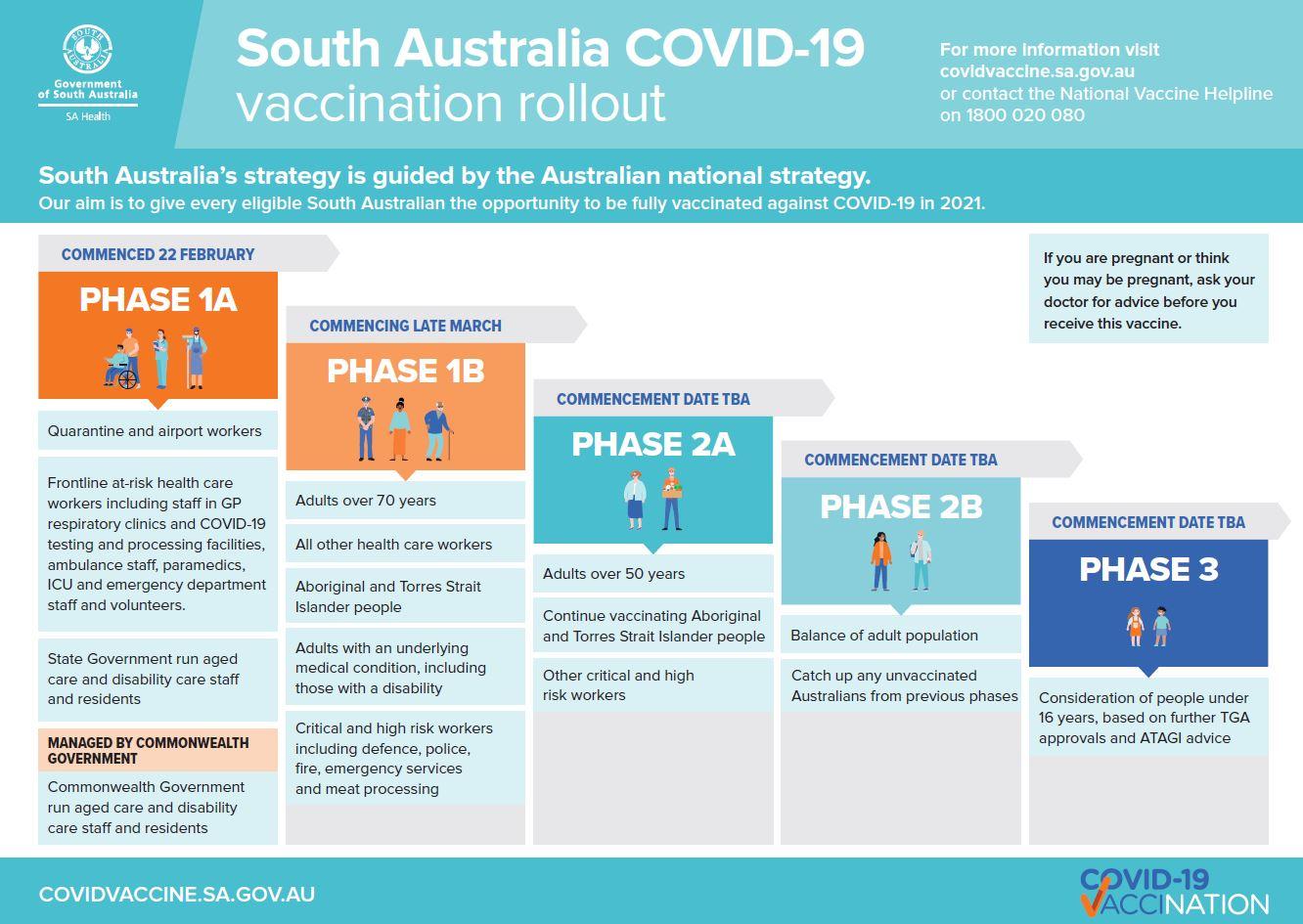 For more information regarding the vaccination please follow the below links:
SA Health Covid-19 Vaccinations
Australian Government Health Website

Call the National Vaccine Helpline on 1800 020 080